12 of the Best Suburbs to Live in San Diego | 2022 Edition
Posted by Kimo Quance on Saturday, January 22, 2022 at 7:19 PM
By Kimo Quance / January 22, 2022
Comment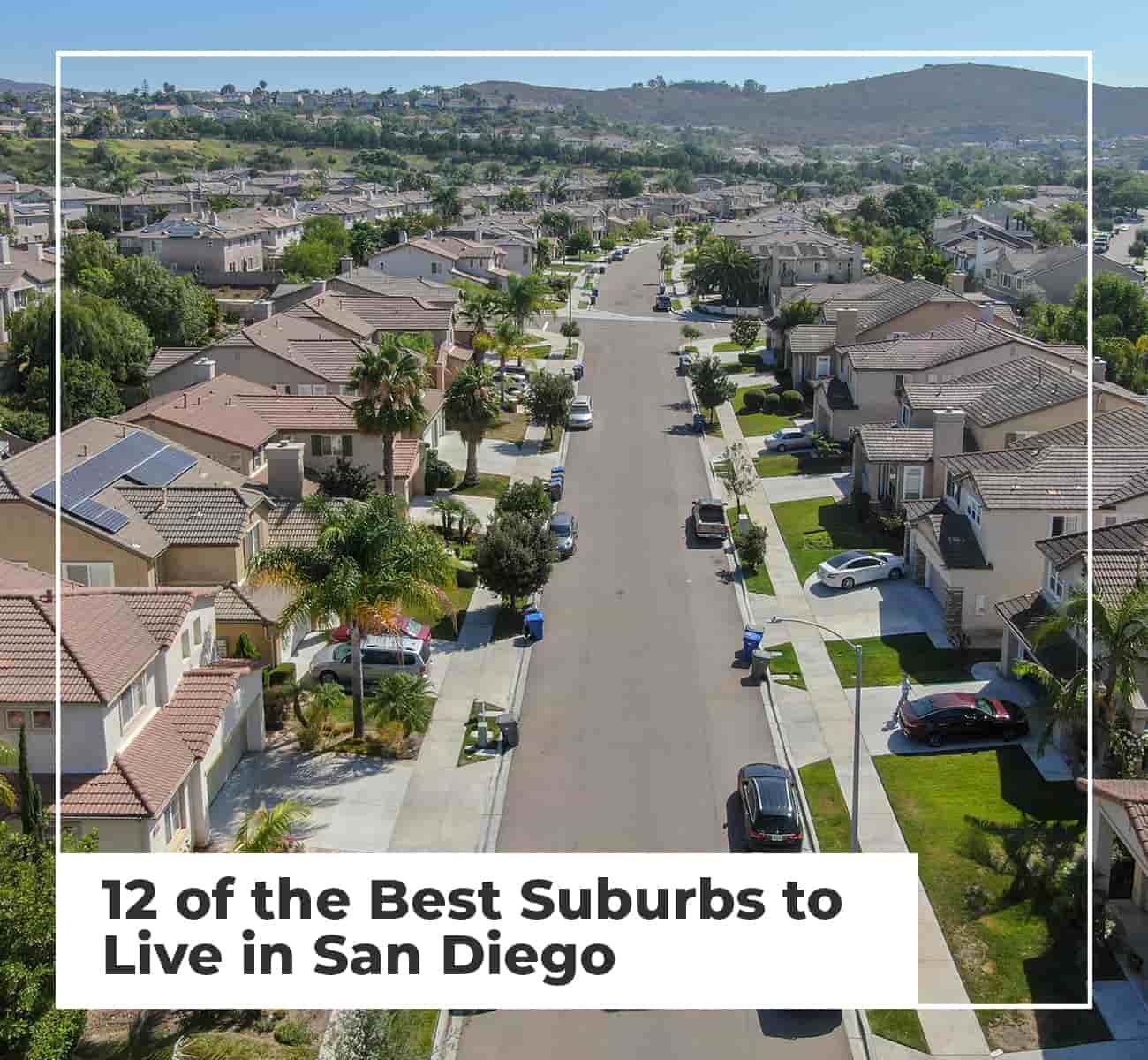 San Diego is a beautiful place to live. It's right on the ocean and close to the Mexican border, which gives it a diverse culture, endless recreational opportunities, a mild climate all year long, and a booming economy. The 1.3 million residents live in 52 Community Planning Areas comprised of over 100 neighborhoods. Narrowing it down to the top twelve best suburbs to live in San Diego is difficult as there are so many unique areas that are great for families, singles, and retirees.
San Diego has a large military naval base, a University of California campus, and over 400 biotechnology companies. There are professional teams in all of the major sports. There are numerous public school districts, including the San Diego Unified School District with 107 elementary schools, 11 K-8 schools, 24 middle schools, 28 high schools, 45 charters schools, and 13 atypical and alternative schools. Some of the suburbs have their own districts, and many private schools are scattered throughout the area.
San Diego neighborhoods can be pretty pricy, this means choosing the right neighborhood is important for your investment as well as your lifestyle. While many areas are desirable, here are some of the best suburbs in San Diego to start your search.
View All Homes For Sale in San Diego, CA >>>
Surrounded by ocean bluffs and beaches, La Jolla's nearly 47,000 residents enjoy a curving coastline filled with great views and mild temperatures. Located 12 miles north of Downtown San Diego, La Jolla is a mecca for dining, shopping, and medical companies. The University of California, San Diego campus is in La Jolla. It is also home to the famous Scripps Institute of Oceanography and the Salk Institute. The Museum of Contemporary Art San Diego, the La Jolla Playhouse, and the Conrad Prebys Performing Arts Center provide culture and entertainment. For those who like to shop, La Jolla has boutique shopping areas downtown. The best part of San Diego is the ocean, and you are never far in La Jolla. Torrey Pines State Natural Reserve offers opportunities to enjoy this natural resource with eight trails filled with amazing views and abundant wildlife. Home prices are on the higher end here, but it's worth it for easy access to Downtown, the best public schools in the area, and a secure neighborhood.
View All Homes For Sale in La Jolla, CA >>>
The Hotel del Coronado is a popular tourist destination across San Diego Bay. The isthmus, connected by a strip of land called the Silver Strand, is also home to around 25,000 residents. The Navy Seals operate a training center on the southern side of town; the Hotel del Coronado and two other resorts are situated throughout the area and employ quite a few people. The area boasts the best beaches in San Diego, as well as high-end shopping, and dining. Residents enjoy a clean, safe area with excellent public schools. Many veterans and their families live in Coronado, but you'll also find people that commute the short distance to Downtown San Diego. As you can imagine, there are plenty of watersports to enjoy, including swimming, fishing, boating, or just walking along the beach. The homes are contemporary and Mediterranean style.
View All Homes For Sale in Coronado, CA >>>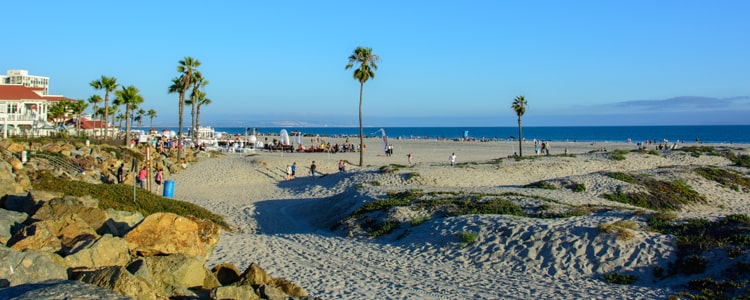 Young professionals flock to this oceanside community where one can stroll on the beach on their off time and hop on a bus or I-5 for the 27-mile commute to Downtown San Diego. Pet lovers can head to the Original Dog Beach. Golf enthusiasts can play 18 holes at the Lomas Santa Fe Country Club. One of the oldest residential areas is the neighborhood of La Colonia de Eden Gardens, a community formed in the 1920s by Mexican farmers brought to the area to work at a nearby ranch. Residents also enjoy art galleries, antique stores, boutiques, and cafes at the Cedros Design District. The Solana Beach Farmers Market is open every Sunday for fresh produce, flowers, and more. Top-notch schools are run by the Solana Beach School District and the San Dieguito Union High School District.
View All Homes For Sale in Solana Beach, CA >>>
One of the more affluent neighborhoods in San Diego, Del Mar, is a seaside resort with homes nestled on the waters and bluffs overlooking the ocean. It's a relatively small community with a population of around 4,500, and many of those residents are well-known sports figures, businessmen, and celebrities. Del Mar is home to the San Diego County Fair, the Del Mar Antique Show, Torrey Pines State Beach, and the Del Mar Racetrack. Families send their kids to Del Mar Union School District for grade school and San Dieguito Union High School. Naturalists will enjoy the Los Penasquitos Lagoon to see the endangered Torrey pine tree. When you are done, head into the center of town to enjoy a quaint restaurant or coffee shop.
View All Homes For Sale in Del Mar, CA >>>
Eighty-seven miles south of Los Angeles and 35 miles north of San Diego lies Carlsbad and its 115,000 residents. Carlsbad is known as Titanium Valley because it is home to several golf manufacturers, including Callaway and Titleist. Carlsbad is also home to dozens of well-known corporate headquarters including Jenny Craig, Hay House, Atticus Clothing, and Viasat. The city is divided into four district quadrants for city planning purposes. They each have a distinct look and feel. The Northwest Quadrant is the oldest section with ranch homes and mansions, a grove of eucalyptus trees, two lagoons, and the Carlsbad City Library. The Northeast quadrant has single-family homes, an extinct volcano (Mount Calavera), and Sage Creek High School. The Southeast quadrant has new homes built on hillsides with the La Costa Resort and Spa and award-winning Gold Medal Golf Resort. The Southwest quadrant is along the coast and is home to the Park Hyatt Aviara Resort. Children attend one of four unified school districts or a host of private schools.
View All Homes For Sale in Carlsbad, CA >>>

Twenty-five miles north of San Diego is the beach city of Encinitas. Home to around 63,000 residents, the city can be divided into five areas. Old Encinitas is along Highway 101 and close to the beach. Many residents enjoy surfing and local businesses. New Encinitas has a golf course, newer homes, and plenty of shopping centers. Olivenhain is a more rural area where many residents enjoy horse properties. Leucadia has art galleries, single-family homes, and easy beach access. Cardiff-by-the-Sea is an oceanfront property with parks, dramatic cliffs with amazing views, and a unique sense of community. Many guides list Cardiff as one of the best suburbs in San Diego by itself. It's got everything for your California lifestyle, including boutiques, salons, fitness centers, restaurants, shopping, and surfing. Cardiff Reef is a place where professional a novice surfers gather to catch big waves.
View All Homes For Sale in Encinitas, CA >>>
Residents of San Marcos enjoy modern condos and Mediterranean-style homes. They enjoy an outdoor lifestyle at the city's many green spaces and parks. Look up at night to see an illuminated cross built several decades ago. San Marcos is a bit inland but close enough for a quick jaunt to the beach. Many who live here commute a short distance to Downtown San Diego or other suburbs for employment. There are around 84,000 diverse residents in at least 22 neighborhoods. The San Marcos Unified School District is one of the largest in the area, with 20 schools and 21,000 students. High Tech High is one of the many popular charter schools. Palomar College and California State University offer associate's and university-level degrees.
View All Homes For Sale in San Marcos, CA >>>
Oceanside is aptly named for its focus on the waters and surfing. Residents and tourists alike flock to Oceanside Pier, one of the longest wooden piers on the west coast. They also walk the historic district of Mount Ecclesia with its nature grounds and gardens. A lighthouse, shops, and boats at the harbor are not to be missed. Those who hit the water enjoy the best surfing and can witness the world's largest women's surfing competition. Lest you think it's all about the water, Oceanside has four school districts to choose from as well as a new independent public charter school. The homes here are generally more affordable, and 176,000 residents call Oceanside home. Those that need to commute to Downtown San Diego have 38 miles of gorgeous views to pass the time.
View All Homes For Sale in Oceanside, CA >>>
The second-largest city in the San Diego area, Chula Vista, is more affordable than other neighborhoods, but it does not lack amenities. It is known for dining, shopping, and easy access to parks and gardens. Located south of Downtown San Diego, Chula Vista enjoys a diverse community nestled between the ocean and foothills just north of the Mexican border. Incorporated in 1911, the area is now home to around 280,000 residents, the United States Olympic Training Center, the Living Coast Discovery Center, and the soon to be open Sesame Place – a children's theme and water park. Tourism plays a significant role in Chula Vista's economy with dining, shopping, golf courses, and water sports. Living in Chula Vista means choosing between historic properties and planned communities with quiet neighborhoods close to schools.
View All Homes For Sale in Chula Vista, CA >>>
Ideally located 30 miles northeast of San Diego and fifteen miles from the ocean, this area is popular and growing with around 144,000 residents. Several neighborhoods, including Old Escondido, are filled with single-family homes. There are plenty of areas for shopping, including a Farmer's Market downtown, a large swap market, and an indoor shopping mall. Downtown has a folk-art museum, theaters, a history center, and a children's museum. Outdoor activities abound with 15 parks, including a 3,000-acre conservation area, Dixon Lake with fishing and camping, Washington Park with baseball fields, tennis courts, and a swimming pool, and Frances Ryan Park with soccer fields. Escondido is also close to the San Diego Zoo Safari Park. Three public school districts ensure a variety of school options.
View All Homes For Sale in Escondido, CA >>>
Part of San Diego's North Country, Poway, is located inland. This suburb has townhomes, Mediterranean-style single-family homes, low crime rates, great schools, and the Blue Sky Ecological Reserve. The nearly 50,000 residents enjoy Lake Poway and hiking Sycamore Canyon Preserve and Goodan Ranch. The Poway Center for Performing Arts and the Stoneridge Country Club offers culture and golf, respectively. Children attend Poway Unified School District schools with 25 elementary schools, six middle schools, and six high schools. There are also private schools, homeschooling options, and the Poway Adult School for those thinking of changing careers. The biggest employer is General Atomics Aeronautical System, but there are plenty of other job opportunities for those who do not wish to commute.
View All Homes For Sale in Poway, CA >>>

Located nine miles from Downtown San Diego and 18 miles from the ocean, Santee is a lower-key city built for families. The homes are more affordable, and there is space for the city to grow. There is a business park, shopping center, a 15-acre sports field complex, and much more. In the summer, there are free concerts, an annual wine and bluegrass festival, and a local theater group called Off Broadway Live. The Carlton Oaks Golf Course and resort has been hosting golf enthusiasts since 1958. The Town Center Community Park on the San Diego River offers a trail system and aquatics center. Kids attend one of two school districts through high school and then can attend San Diego Christian College, which has fifteen degree programs. Commuters can drive along State Route 52 or take the Green Line trolley route toward Downtown San Diego.
View All Homes For Sale in Santee, CA >>>
The Best Suburbs of San Diego
San Diego County is a large, highly populated, and diverse metropolitan area with neighborhoods suitable for everyone. Whether you want to experience the quintessential California lifestyle near the beach with a magnificent view of the Pacific Ocean or looking for a gentler area with mild weather, excellent schools, and towering trees, you'll find what you are looking for. While real estate prices are higher than the national average, gems are found. You are sure to find your dream home among the best suburbs of San Diego or some of the nearby areas.
The Kimo Quance Group represents the region's finest properties with exceptional skill using the most innovative technologies currently available. The Kimo Quance Group offers ultimate privacy and security, speed, and efficiency. Get in touch today!
Homes For Sale in San Diego