Moving To and Living In Alpine, California [2021 Edition]
Posted by Kimo Quance on Monday, May 3, 2021 at 1:03 PM
By Kimo Quance / May 3, 2021
Comment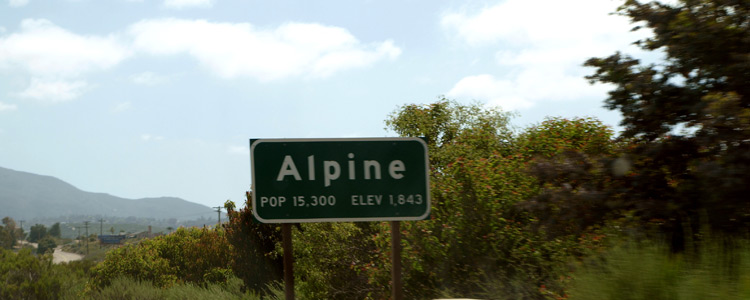 Nestled in the Cuyamaca Mountains, in San Diego County, is the census-designated region known as Alpine, California. According to the 2019 census, there are just over 14,875 people who call Alpine home. Though small, Alpine offers a significant amount of amenities to its residents. Away from the hustle and bustle of San Diego, residents are able to enjoy a peaceful community that offers excellent schools, quiet streets, and safe neighborhoods. Surrounding Alpine are plenty of beautiful natural settings, including the Cleveland National Forest, mountain ranges, trails, and parks.
View All Homes For Sale in Alpine, CA >>>
History of Alpine, California
Before its modern settlement, the area which is known as Alpine was partly home to Kumeyaay Indians, whose ancestors had been living in the area potentially as long as 12,000 years. After that time, the first documented Europeans to visit Alpine were a group of Spanish soldiers who made their way to the area on their way back to San Deigo from Yuma.
In 1848, brothers Ramon and Leandro Osuna owned most of the land in the Alpine area, about 13,000 acres. However, unable to establish their claim of the entire portion of land, just over 8,800 acres were subsequently sold to Don Jose Aguirre, whose family owned the property until the early 1860s.
For many years the only activity the area saw were travelers passing through on their way to and from San Diego. In 1854, there was a semi-weekly mail line that ran through the area up until it ceased operations in 1860. A Stagecoach Stop was built in the area and later relocated to an area known as "The Village". The store's first postmaster and clerk was Henry J. Whitney, who eventually sold it to Charlie Emery; however, the store then burned down.
George Washington Webb was responsible for the construction of the Julian-to-Banner toll road, which was complete in 1871. A year later, in 1872, he, along with his family, moved into what was known as Alpine Ranch. Presently, the area is known as Harbison Canyon. In 1876, Mr. Webb petitioned for the construction of a schoolhouse, which was done beside the family ranch.
Shortly before the Webb family left the area for Sweetwater Valley, John Stewart Harbison came to the site. A leading apiarist, Harbison is credited for putting San Diego County on the map as one of the top honey-producing counties in the state as well as the country.
Honey continued to be a moneymaker in the area up until roughly 1970, along with raisin grapes and wine grapes which were also grown in the area. Other popular fruits and vegetables which were grown throughout Alpine were peaches, olives, apricots, plums, and apples.
What started as humble agricultural beginnings quickly changed after two significant events. In 1962, Alpine was connected to a community water supply, and in 1969 Interstate 8 provided quick access to San Diego. With both of these advancements, Alpine slowly but steadily grew into the charming town it is today.
Real Estate in Alpine, California
Alpine, California, has a mixed real estate market offering everything condominiums, townhomes, and single-family homes. The most popular real estate opportunity is single-family detached homes which range in style and size. Many houses dotted throughout the community are sprawling ranch homes that boast ample amounts of land.
The average price for a humble condominium or townhome falls around $175K to $225K. These properties generally are found within low-rise buildings and feature between 1 and 3 bedrooms and 1 and 2 bathrooms.
Single-family detached homes, the most popular style, can be found in mixed styles. Throughout the downtown area, bungalows and single-level homes are prevalent, whereas the countryside sees many spacious ranches and multi-level luxury estates.
Due to the high number of high-end real estate, the average price for real estate in Alpine is approximately $780K. The county sees a lower average, around $650K.
Neighborhoods in Alpine, California
Being a small town, there are not as many defined neighborhoods as one would find in a big city. Alpine is home to a few areas which attract buyers for their own reasons. Mostly suburban or rural, neighborhoods throughout Alpine are warm and welcoming, making for ideal communities to set down roots and raise families. Glen Oaks, which falls to the west of Alpine, is a popular community for commuters, and Alpine Heights, falling to the east, is a family-friendly area set close to schools.
Things To Do in Alpine, California
There are plenty of things to do in the Alpine area. Recreation, dining, entertainment, and shopping can either be found within the city or lie a short distance away. For those who enjoy spending time in the great outdoors, Alpine is the perfect town! Surrounded by the Cleveland National Forest, Alpine residents are able to quickly and easily take advantage of the beautiful scenery, trails, parks, and mountain ranges.
One of the popular family-friendly activities found in Alpine is the animal rescue, Lions Tigers & Bears. Sprawled across 93 acres of land just outside of Alpine, the big animal rescue is home to more than 60 animals who were born into captivity and destined to be abused. The rescue ranch provides a refuge for these animals where they are able to run, swim and play freely. Families are able to visit and learn more about these stunning creatures.
Enjoy the Great Outdoors in Alpine, California
Hugged by a large portion of the Cleveland National Forest, Alpine is ideally situated for those who enjoy spending time immersed in nature. This well-preserved forest is home to miles and miles of trail networks, scenic lookout points, and acres of forestry. Visitors can enjoy a quick hike or spend a considerable amount of time camping throughout the area.
This mountain getaway is a great place to spend time with family, disconnecting from technology and reconnecting in the wilderness. Horseback riding, mountain biking and bird watching are favorite pastimes for those who frequent the forest.
Within the community, Wrights Field offers an ideal space to head out for a quick walk or have the dog enjoy vast amounts of open space. Located east of the downtown area, Wrights Field is an attractive part of the community.
Excellent Education in Alpine, California
The town of Alpine is home to just three schools that serve their students from pre-kindergarten through grade 12. The Alpine Union School District administers education throughout the schools as well as the Creekside Early Learning Center. The schools located in Alpine include:
Boulder Oaks Elementary School | 2320 Tavern Road, Alpine, California
Located in Alpine Heights, Boulder Oaks is a well-ranking elementary school that serves roughly 333 students from grade one to grade five. An above-average school, Boulder Oaks has a student-to-teacher ratio of 15:1.
Shadow Hills Elementary School | 8770 Harbison Canyon Road, Alpine, California
Shadow Hills Elementary School is set in the Glen Oaks community and welcomes approximately 403 students throughout the academic year. Area students from Kindergarten through grade 5 attend Shadow Hills Elementary, which currently has a 23:1 student-to-teacher ratio.
Joan MacQueen Middle School | 2001 Tavern Road, Alpine, California
Located near the Boulder Oaks Elementary School, Joan MacQueen Middle School offers classes for students in grades six through eight. There are just over 400 students who attend the well-ranked middle school, which also provides an abundance of extracurricular activities and enrichment programs.
There is no high school currently located in Alpine; however, students need not travel far to continue their education. Area high schools have the option to attend either Granite Hills High School in neighboring El Cajon or Steele Canyon High School in Jamul.
Always make sure to confirm with local school boards to ensure attendance and enrollment possibilities.
Shopping and Dining in Alpine, California
Residents of Alpine are able to quickly access a wide range of amenities that are dotted throughout their humble town. Everyday necessities, unique shops and one-of-a-kind finds can be located in many of the different retailers located throughout the area. For items that may not be found in Alpine, nearby cities such as El Cajon or La Mesa are a short trip away.
Mainly concentrated along Alpine Road, residents are able to find financial institutes, pharmacies, grocery stores, discount shops, and more. The Alpine Creek Shopping Center is located in the heart of town and is home to retailers such as Ace Hardware, Barons Market, CVS, Kahoots Pets, Tiki Trove, and more. Dotted along the roadway, more shops include Bella's Closet, Albertsons, Dollar Tree, Chic Boutique and Ranch Farmers Market.
Dining opportunities are also plentiful and range from fast food to family-owned sit-down restaurants. So whether you are grabbing a bite on the run or looking to celebrate a special occasion, Alpine restaurants are sure to have a suitable option. Some local favorites include:
Alpine Tavern and Grill
Caffe Adesso
Mananas Mexican Food
Panda Machi
Tapatio's
Janet's Montana Cafe
Dickey's Barbecue Pit
A large draw for choosing to live in Alpine, California, is the close proximity to other communities. A quick drive and residents can take advantage of beautiful coastal cities such as San Diego and La Jolla without having to worry about the real estate prices or ongoing traffic. Alpine is a quaint and peaceful community that perfectly blends stunning natural scenery and modern everyday amenities.