Moving To and Living in El Cajon, CA: The Definitive Guide
Posted by Kimo Quance on Sunday, December 6, 2020 at 11:47 AM
By Kimo Quance / December 6, 2020
Comment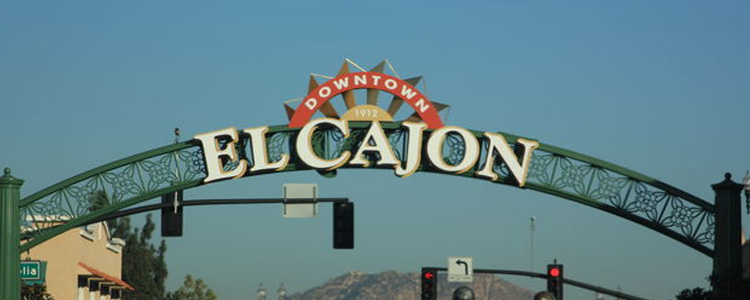 El Cajon is a beautiful, diverse suburb of San Diego, California. El Cajon is often referred to as "The Box" due to the surrounding landscapes; the city is located in a valley surrounded by stunning mountains, which encloses the area in a sort of box-shape. The name itself comes from the Spanish words "el cajon" which translates as "the box" or "the drawer."
The population of El Cajon is approximately 102,710 and is comprised of a large portion of families. The residents of this charming city have access to several local parks and recreation facilities, unique shops and stores, as well as an excellent selection of high-quality public and private schools.
If the close-by amenities of El Cajon are not enough to satisfy the needs of the locals, the thriving downtown core of San Diego is only 17 miles east of the city and offers up a plethora of additional shopping opportunities, restaurants, entertainment and nightlife features, and beautiful beaches.
What is the history of El Cajon, CA?
The historical records for El Cajon make it hard to establish a specific origin date of the city. In the mid-19th century, there were scattered homes erected throughout the area, but no economic development. There was a school established for a total of six children in 1870, which is the closest historians have to identifying the beginning of a permanent American settlement.
The natural corridors of the landscape made Main and Magnolia the crossroads from San Diego (to the east) to the gold mining operations in Julian (to the north). This made El Cajon a natural resting point or travelling point for those looking to travel to the already established city of San Diego as well as those seeking out gold in the hills of Julian. These opportunities led to more and more homes being constructed and a real sense of community being established.
During the Civil War, many real estate developments were initiated by a young entrepreneur from San Francisco named Issac Lankershim. This partnered with another young New England emigrant, Amaziah Knox, who constructed El Cajon's first commercial building in 1876 continued the development of the economic value and the attraction to settle in the area.
After the American Civil War, many settlers sought the quiet homesteads of Western America. With all these new home developments and potential job opportunities, El Cajon seemed like a logical place to start a new life. The ongoing gold mining in Julian continued to bring in steady traffic through the city, between hauling equipment and supplies, and carting back gold and ore from the hills. This hardened the crossroads of Magnolia and Main and continued to provide jobs and economic profits to the city. This also inspired the creation of several hotels within the area.
Over the next several decades, El Cajon continued to steadily grow as a rural and small town of America. The inclusion of poultry ranches and meat-packing businesses added some diversity to the city's economy. By the 1940s, the population had grown significantly. After World War II, the area followed the same pattern of settlers choosing to live in a quiet area in the West.
By 1960, the elected officials of the city had big plans to expand the metropolitan area. The retail and business districts had grown significantly and El Cajon had gained a reputation as a small but successful city, continuing to grow throughout the following decades.
What is Real Estate like in El Cajon, CA?
El Cajon is made up of a diverse variety of housing options. Potential residents have a wide selection of housing designs, neighborhood layouts, and rental or ownership opportunities. This densely-populated city offers everything from cozy mobile homes of approximately 480 square feet and one-two bedrooms to large, upscale homes situated on two- to three-acre lots consisting of four to five + bedrooms, as well as everything in between including multi-family row homes and condominiums.
These homes vary in price and can be as low as $30,000 and as high as $3.8 million. The average real estate cost is approximately $570,500.
Neighborhoods
There is a diverse variety of neighborhoods located in El Cajon, with something for every living style. These neighborhoods include luxury, upscale housing, affordable family housing, mobile homes, and apartment or condominium complexes. No matter what sort of lifestyle you live, there is a neighborhood in El Cajon that will cater to that lifestyle.
Luxury Neighborhoods include:
Blossom Valley - averaging $924,500
Fletcher Hills - between $650,000 to $1.25 million
Moderate Neighborhoods include:
Alder Woods - averaging $294,000.
Bostonia - averaging $490,971.
Granite Hills - averaging $578,648.
Mobile Home Neighborhoods include:
Terrace View Mobile Home Estates - between $75,000 and $135,000.
Starlight Mobile Homes - between $38,000 to $50,000.
What is there to do in El Cajon, CA?
There is a wide variety of entertainment and activities available in El Cajon. The city has a lot of family-friendly options for educational and entertaining outings as well as a thriving nightlife and bar/club scene.
The Water Conservation Garden is a six-acre area consisting of gorgeous gardens featuring native plants, vegetables, and displays of mulching and irrigation exhibits. There is a beautiful butterfly pavilion open in the spring and summer every year featuring native butterflies. The Garden is also host to many gardening workshops, the Ms. Smarty-Plants Youth Education Program, and is available to large groups and school tours. This is also a popular destination for weddings, fundraisers, and other events.
Sycuan Casino is an amazing, luxury resort that is home to world-class gaming including a large array of slot machines. This incredible facility includes bars and restaurants, live music, a lazy river pool, A-list entertainment, and a full-service spa. It's an incredible getaway for locals and tourists alike.
Downtown San Diego is only 20 minutes west of El Cajon. The thriving district includes lively restaurants and bars, outstanding performing arts venues that host concerts and dramas constantly, and a bayfront area that provides countless opportunities to relax on one of the many beaches, explore the Maritime Museum and the USS Midway.
San Diego is also home to the San DIego Aerospace Museum Restoration Facility. This fantastic establishment displays significant artifacts of air and space history including technology, science, and engineering advancements. Some of the displays included the History of Flight, the World War I Gallery, and The Golden Age of Flight Gallery.
The Great Outdoors
El Cajon is surrounded by gorgeous mountains and stunning views. This allows residents of the city to take in all the beauty and magnificence that California has to offer.
The largest outdoor facility in the surrounding area is Mission Trails Regional Park. This 7,220-acre reserve is made up of beautiful valleys, rugged mountain hills, and wide-open spaces. The park provides over 60 miles of hiking, biking, and climbing trails, ample boating opportunities on the incredible Lake Murray, and dozens of campgrounds. Mission Trails is the ultimate outdoor getaway for locals and visitors alike.
There are several well-maintained parks in El Cajon. Wells Park, John F Kennedy Park, and Bill Beck City Park are just a few examples of options for residents to enjoy. Since the city is full of families, these parks are ideal for a day outside, soaking up the sun and fresh air. The parks in the area consist of fantastic playgrounds, expansive picnic areas, and numerous walking paths. John F Kennedy Park also offers concrete bowls, ramps, and jumps that are perfect for beginner and experienced skateboarders.
St. Madeleine Sophie's Center and Garden is a two-acre Certified Organic garden dedicated to therapeutic intentions. The garden includes a full citrus orchard, flower gardens, a passive-solar greenhouse, propagation houses, ornamental trees, shrubs, and fragrant herbs. The ADA-approved meandering pathways are perfect for contemplative therapies and provide visitors with the opportunity to commune with nature.
A Look at Education
El Cajon is under the management and operation of two school boards: Cajon Valley Union School District and Grossmont Union High School District. Cajon Valley operates all the public elementary and middle schools in the area and Grossmont runs the public high schools.
Cajon Valley Union School District serves 66.3 square miles between El Cajon and Rancho San Diego. The district provides quality education to approximately 16,000 students in kindergarten through 8th grade.
Grossmont Union High School District is made up of 13 high schools (nine regular schools, three charter, and one adult educational facility.)
There is also the option of privately-run and religious schools in El Cajon.These schools include:
Foothills Christian Schools (preschool, middle school, and high school campuses)
St. Kieran's Catholic School
Holy Trinity Catholic School
Mount Helix Academy
Warren-Walker School
Arts and Culture
El Cajon is home to a great amount of fantastic museums. These museums are interesting, entertaining, and educational and offer unique experiences to delve into the city's past as well as the history of the entire country.
The Heritage of the Americas Museum is a non-profit foundation that features prehistoric and historic arts and cultures of the Americas. This child-friendly museum is made up of four wings. The Natural Wing consists of meteorites, gems, minerals, and fossils. The Archaeology Wing is full of pre-Columbian artifacts. The Anthropology Wing consists of artifacts from the last two centuries as well as artifacts from after the arrival of Europians to the Americas. The Art Wing consists of more recent Western Art as well as a new collection of Chinese artifacts including a collection of dynastic jade pieces, one of which is a 2,000 year-old jade burial suit from the Han Dynasty.
The Olaf Wieghorst Museum and Western Heritage Center is a facility dedicated to the works and accomplishments of Olaf Wieghorst. Wieghorst was an avid member of the community for over 40 years. He's known for his magnificent portrayals of the nineteenth-century American West, specifically depictions of cowboys, Native American Indians, and settlers who helped to shape the Western landscape.
The Magnolia is a city-owned establishment that partnered with Live Nation Entertainment. This popular venue opened its doors in 2019 after $8 million was poured into the facility. The Magnolia is the perfect place for music-lovers to gather as it hosts several concerts and events.
Restaurants and Shopping
The residents of El Cajon have a diverse selection of local and big-box shopping opportunities. Locals can find a variety of unique boutiques filled with locally-produced and crafted items including custom jewellery, clothing lines, and specialized giftware. Locals can also explore several shopping complexes that include all the familiar favorites such as Walmart, Macy's and Target.
Parkway Plaza Mall is a premier shopping complex that consists of 160 department stores, boutique shops, and restaurants. The anchor stores include Macy's, Dick's Sporting Goods, and Walmart. Another feature of the Parkway Plaza is the Regal Cinemas IMAX 3D theater located inside the building.
La Mesa Antique Mall is an interesting building full of collectables, antiques, and so much more. The rented-out cubicles offer management to host a myriad of unique items and collectables.
El Cajon is home to a wide variety of restaurants, bars, and grocery stores. Sprouts is a unique grocery shopping experience that offers affordable and healthy options as well as locally-sourced produce. This charming neighborhood store is stocked full with fresh, organic foods that anybody can afford.
Dining options in El Cajon are ethnically diverse and includes a range of foods for locals to try out. The residents of El Cajon can find anything from Mexican to Chinese to traditional American staples in the hundreds of dining establishments located throughout the city. As well as familiar franchises, locals can explore many locally-owned and operated establishments including craft breweries and pub-houses, quaint cafes and coffee shops, and fine dining options.
El Cajon is an incredible community made up of wonderfully-diverse residents and businesses. The friendly neighborhoods and convenient amenities make the city a fantastic place to start and raise a family. The surrounding area and picturesque landscape make for ideal conditions for any nature-lover to call home. With the diversity and variety incorporated into the city, El Cajon is a fantastic option for potential residents of all walks of life to consider.