Moving To and Living In Ramona, California [2021 Edition]
Posted by Kimo Quance on Monday, May 3, 2021 at 9:49 AM
By Kimo Quance / May 3, 2021
Comment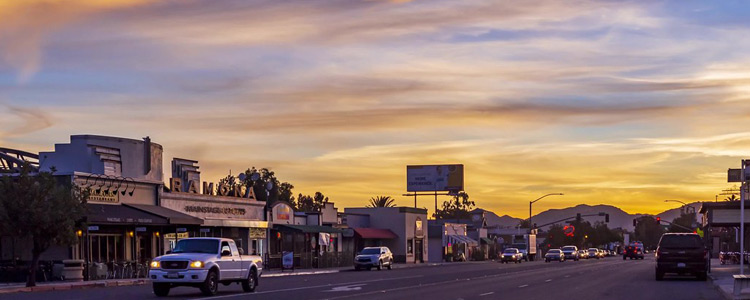 Technically a census-designated place, Ramona, California is a charming town located in San Diego County. Home to roughly 20,000 residents, Ramona is a family-friendly community that welcomes new residents from different backgrounds, ethnicities, age groups and more.
View All Homes For Sale in Ramona, California >>>
People are attracted to Ramona for a number of different reasons. A safe and peaceful town that is ideally located near San Diego and the stunning coastline is one of the top features. Excellent schools, plenty of recreational activities, shops, restaurants, and friendly neighborhoods are added bonuses of living in Ramona.
History of Ramona, California
Much like the other small towns and cities surround Ramona, the area was once inhabited by semi-nomadic people know as the Kumeyaay Nation of native Americans. Their presence was confirmed by archeologists who found marking on rocks, painting, tools and etchings. The people of the nation would move between coastal and inland areas.
At the time that Mexico governed California, there was a Mexican land grant, called Rancho Valle de Pamo (also called Rancho Santa María), that spanned 17,709 acres and was centered on what is known today as Ramona.
The first post office in the area was called Nuevo, which changed to Ramona in 1886. It reverted back to Nuevo when it was discovered that a town in Los Angels was also named Ramona. After learning about the Los Angels town's ultimate abandonment, the city was again renamed, Ramona.
In the same year, the first house was built in Ramona, which stands to this day and houses the Ramona Pioneer Historical Society and its Guy B. Woodward Museum. In 1991 the house was added to the National Register for Historic Places. Over the years other buildings, such as a town hall were constructed and Ramona grew in size.
More recent popular events in Ramona include the training camp help by boxing legend Archie Moore. Moore owned property that housed a training facility known as the "salt mine" where the likes of Muhammad Ali would visit. Again Ramona made its way into sports history in 1955 as the sight which Bobby Riggs, tennis-player-turned-hustler, played, and won against, 30-year-old, world #1 player, Margaret Court. He later famously lost to Billie Jean King in 1973 in a historic event.
Destruction made its way into Ramona by way of wildfire in 2003. The Cedar Fire began in Ramona and raged on, eventually consuming roughly 280,000 acres, 2,820 buildings, most of which were residential homes and 15 lives. Four years later the Witch Fire began in Ramona and within three days it burned through 164,000 acres and consumed 640 homes.
Having quickly rebuilt due to the resilience of its residents, present-day Ramona is a thriving and tight-knit community that boasts a welcoming atmosphere, great housing opportunities and ample amenities.
Real Estate in Ramona, California
Ramona is filled with exceptional real estate opportunities which encompass many different styles and sizes of homes. The majority of homes for sale in Ramona are single-family detached homes. Properties range from sprawling ranches to upscale multi-level homes. Generally, homes for sale in Ramona offer between two and four bedrooms and one and three bathrooms.
Ramona is home to a small number of townhomes, apartment buildings, condos and mobile home real estate options. These properties are generally less expensive than the detached, single-family homes, however, they still provide decent amounts of living space and even private yards, garages and more.
There is a large amount of luxury real estate available in Ramona which features expansive estate homes on large private lots. Many of these homes begin well over $1 million and feature options such as private pools, horse stables and more.
The average price of a home for sale in Ramona is roughly $700K, however many options fall on both sides of that number. There are a handful of houses that boast expansive living spaces, comfortably size lots, and many desirable upgrades which can be found ranging between the mid to upper $600K's and mid to upper $900K's.
Neighborhoods in Ramona, California
There are a handful of neighborhoods that collectively make up the city of Ramona. Many of the communities that are located within the area are traditional suburban-style neighborhoods with the exception of a few downtown districts or rural housing options. Neighborhoods within Ramona are safe and peaceful catering to a number of different lifestyles which include singles, young families and retirees alike.
Neighborhoods found in Ramona, California include:
Town Center
Pine Street/Cedar Street
Julian Road/Southerland Dam Rd.
Julian Road/Old Julian Highway
Main Street/Ramona Street
These neighborhoods are a mix of traditional suburban neighborhoods to rural communities. Regardless of which best suits your lifestyle, there is a place for you to call home in Ramona, California.
So Much To Do in Ramona, California
Though relatively small and laidback, Ramona is still filled with things for its residents and visitors to see and do. From a rock which resembles a potato chip to parks, golf course and more, Ramona is a playground for those who love to get outdoors and spend time in the sunshine.
Some of the top things to do in Ramona:
Oasis Camel Dairy:
Trip Advisors #1 place to visit in Ramona! Featured on both Dirty Jobs with Mike Rowe and Bizarre Foods with Andrew Zimmern, Oasis Camel Dairy is a family-friendly attraction for all ages to enjoy. Opened monthly to the public for camel rides, camel feeding and petting, an entertaining family animal show and a meet and greet, this charming farm is a must-see for residents and visitors of the area.
Wineries:
Ramona is home to a number of beautiful wineries. From private tours to delicious tastings, there isn't a much better way to spend your afternoon than strolling through vineyards and enjoying local wines. Some of the popular wineries in the area include:
Turtle Rock Ridge Vineyard and Winery
Milagro Winery
Salerno Winery
Principe di Tricase Winery
Rashelica Winery and Art Garden
Kohill Winery
La Finquita Winery and Vineyard
Crystal Hill Winery
Hatfield Creek Wineries and Vineyard
Barona Resort & Casino:
Located to the south of Ramona is the upscale resort known as Barona Resort & Casino. Whether going to visit to enjoy a round of golf, a delicious meal or to try your luck at one of the casino games, a trip to Barona Resort & Casino will not disappoint.
Enjoy the Great Outdoors in Ramona, California
Residents of Ramona have ample opportunity to enjoy the great outdoors and vast amounts of open space that surround their town. From neighborhood and community parks to expansive natural preserves, outdoor enthusiasts will be thrilled with the recreational opportunities available to them.
Ramona Grassland Preserve is an expansive area which is located off of Highland Valley Road. Perfect for hikes, nature observing and more, residents can sightsee and stay active at the popular site.
Potato Chip Rock is a natural tourist attraction which is located on Mount Woodson Summit. Popular for instagramers and influencers, the unique formation was named for its resemblance to a potato chip. This thin ledge is the perfect space to look out over the surrounding areas and snap a one-of-a-kind picture!
The Wildlife Research Institute is a non-profit organization which is dedicated to wildlife research and preservation. In hopes of educating visitors, the WRI hosts a number of events which include private hawk viewings.
Neighborhood and community parks are also plentiful and offer playground equipment, multi-use sports fields, and open green space for residents to take advantage of. Parks located in Ramona include:
Collier County Park
Ramona Community Wellfield Park
Dos Picos County Park
Mussey Grade Village Park
Ramona Oaks Park
Swartz Canyon County Park
A Look at Education in Ramona, California
Students who reside in Ramona will have the opportunity to attend schools which are governed by The Ramona Unified School District. Serving a student population of approximately 5,400, the RUSD is home to over 10 schools offered education from pre-kindergarten through grade 12.
Schools throughout the district strive to provide welcoming and inclusive learning environments which encourage students to reach their highest academic and personal potential. Along with the standard curriculum, schools throughout Ramona offer a wide range of extracurricular activities and enrichment programs.
Schools located in Ramona include:
There are a few alternative education options found in Ramona as well which include Mountain Valley Academy kindergarten through grade 12 and Montecito High/Future Bound School.
Shopping and Dining Opportunities in Ramona, California
Though small, Ramona is home to a handful of retailers and restaurants which residents are able to quickly access. From everyday necessities to unique one-of-a-kind finds, Ramona has an eclectic mix of stores and services available.
The majority of stores and services available in Ramona are concentrated along the city's Main Street. Garden centers, antique stores, discount shops, pet stores, hardware stores, home decor and more are all dotted along the main roadway.
There are a handful of shopping plazas and centers found in the city as well including Sun Valley Shopping Center, San Vicente Shopping Center, and Old Poway Village Shopping Center. These locations are home to beauty shops, specialty services, eateries and much more.
Also mostly found along Main Street in Ramona are the city's restaurants and cafes. From ethnic eats to traditional meals there is something for every craving in Ramona. Along with recognizable national chains, some options for diners include:
Amici Pizza, Pasta and Subs
Rubio's Coastal Grill
Mamma Ramona's Restaurant
Pete's BBQ
Ramona Cafe
Meat Monsters Grill
Ramona, California is a beautiful and welcoming town which offers an exceptional quality of life. Reasonable real estate, plenty of recreation opportunities, excellent schools, many amenities and friendly neighborhoods are just a few of the reasons buyers are considering the area for their next purchase!